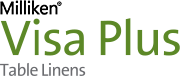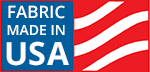 Fabric Style: Visa Plus by Milliken
Fabric Fiber Content: 100% Polyester
Fabric is known for: Longest lasting, most stain resistant table skirting
Commercial Grade: Yes
Stain Resistance: Highest
Wrinkle Resistance: High
Longevity / Durability: Highest
Overall Quality: High
Note: Clips to fit a table edge .75" - 1" thick are included at no extra charge. If your table edge is thicker or thinner, contact us to request the appropriate size clips.
---
A characteristic of shirred table skirting is the continuous gather across the top of the skirt. This continuous gather resembles drapes on a curtain rod.
Customers who prefer the shirred style sometimes comment on its causal look. That casual look has some advantages as a less formal décor is sometimes preferable over a formal décor. It's also worth mentioning that shirred is less expensive than box pleated - and saving money is always in style!
Our shirred and box pleated table skirting have a couple things in common. First, both styles are made with Visa Plus fabric. Second, both styles attach with Velcro (sewn onto the back/top of the skirting and attached to the free clips we provide).
NOTE:Learn more about Milliken Table Linen fabrics like Visa Plus here.