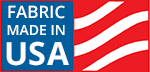 Fabric Style: Checkpoint by Milliken
Fabric Fiber Content: 100% Polyester
Fabric is known for: Restaurant napkins & tablecloths with allover checkered design
Commercial Grade: Yes
Stain Resistance: High
Wrinkle Resistance: High
Longevity / Durability: High
Overall Quality: High
---
Milliken's Checkpoint fabric has the same characteristics as Visa Plus with a casual gingham check design. The design is made with repeated, allover 1"x1" boxes that alternate in a fixed pattern between white, solid color, and halftone.
As usual, Milliken goes above and beyond in terms of quality. The base of Checkpoint fabric is Visa Plus, so you get industry-leading stain resistance, wrinkle resistance, and longevity/durability. The check pattern design is yarn-dyed so it's richly displayed on both sides of the fabric. (Lower quality check pattern fabrics tend to be printed on the top side of the fabric only.) And finally, the fabric is quick drying and colorfast - you can even wash Checkpoint with whites!
Checkpoint is popular for picnics, Italian restaurants, pizzerias, and casual restaurants of all types. If you're looking for high-quality, easy-care, commercial grade napkins and tablecloths with an allover checkered design, this is the best fabric on the market!
NOTE:Learn more about Milliken Table Linen fabrics like Checkpoint here.