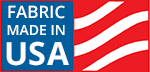 Fabric Style: Signature Plus by Milliken
Fabric Fiber Content: 100% Polyester
Fabric is known for: Softest, most durable, and best-selling restaurant napkins & tablecloths
Commercial Grade: Yes
Stain Resistance: High
Wrinkle Resistance: High
Longevity / Durability: Highest
Overall Quality: Highest
  Best fabric for most customers
---
Milliken's Signature Plus fabric is the dominant commercial grade table linen fabric in North America. No other fabric on the market is able to match Signature Plus' softness combined with stain resistance and longevity/durability. It's the blending of all of those characteristics together that make Signature Plus such a special fabric and what drives its popularity.
Signature Plus is most popular with restaurants that want a commercial grade, stain resistant table linen fabric with a soft touch. A wonderful feature of Signature Plus is that it gets even softer with age. Napkins and tablecloths made from Signature Plus do some of their best work long after lower quality competitors have been thrown in the trash.
Signature Plus and Visa Plus are available in the same sizes. They're also exactly the same price. So when deciding between Signature Plus and Visa Plus, make your buying decision based on fabric characteristics.
NOTE:Learn more about Milliken Table Linen fabrics like Signature Plus here.