No Sales Tax
Except when shipping to Illinois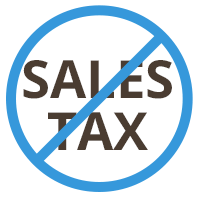 We don't charge sales tax (except when shipping to the state of Illinois). Unfortunately, tax laws are such that we're required to collect and remit sales tax when shipping to Illinois.
If your company or organization plans to purchase products from us with shipping to Illinois and you believe your purchases should be sales tax free, please contact us BEFORE you purchase. We need to receive government documentation from you. Then, we'll make a simple adjustment to your account to remove sales tax from your purchases.
If you have questions about this or any other issue, please don't hesitate to ask.