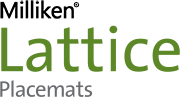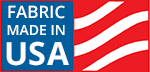 Fabric Style: Lattice by Milliken
Fabric Fiber Content: 100% Polyester
Fabric is known for: Cloth placemats for restaurants with allover lattice design
Commercial Grade: Yes
Stain Resistance: High
Wrinkle Resistance: High
Longevity / Durability: High
Overall Quality: High
Note: Made from two plies of heavy bonded fabric for extra strength, Lattice placemats resist shrinkage and deliver improved durability and dimensional stability.
---
Lattice placemats are typically used on wood, glass, or decorative table tops. They create a stylish atmosphere for breakfast, lunch, or any casual dining setting. But more than just stylish, these cloth placemats are commercial grade, so they're built to last.
Lattice fabric is manufactured by Milliken - the leading mill worldwide in the design and manufacture of commercial grade table linen fabrics. And for Lattice placemat fabric, they've pulled out all the stops! Lattice is made with two plies of heavy bonded fabric for extra strength. The fabric is durable, stain resistant, and holds its shape and color, so it looks great wash after wash.
In short: Lattice placemats are the best quality commercial grade, cloth placemats on the market. Period. They're worthy of your hard-earned money and will make an excellent addition to your restaurant's décor.
NOTE:Learn more about Milliken Table Linen fabrics like Lattice here.