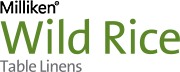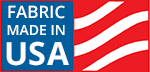 Fabric Style: Wild Rice by Milliken
Fabric Fiber Content: 100% Polyester
Fabric is known for: Wrinkle resistant restaurant napkins & tablecloths with a "linen look"
Commercial Grade: Yes
Stain Resistance: Moderate - High
Wrinkle Resistance: Highest
Longevity / Durability: Moderate - High
Overall Quality: High
---
Milliken's Wild Rice fabric is a niche fabric for one of two types of customers. One - those who want commercial grade napkins and tablecloths with a "linen look". Two - those who want the most wrinkle resistant table linen fabric on the market. If you're one of those types, Wild Rice is perfect for you!
Wild Rice is one of our favorite fabrics. Why? A few reasons. First, the textured linen weave pattern offers a little something different than the plain weave fabrics that dominate the market. Second, the pattern is subtle, so it doesn't overwhelm the table setting. And third, a very high percentage of our customers who order Wild Rice love it and tend to stick with it for years. As a wholesale linen supplier, it's always nice to see such a high level of customer satisfaction and product loyalty.
Because Wild Rice is so wrinkle resistant, we're often asked if the fabric needs to be ironed. The answer is that the vast majority of our customers who order Wild Rice do not iron the products. However, some do (those who insist on a very crisp, ironed look for their dining room). The bottom line is that Wild Rice is a textured "linen look" fabric that most customers will find does not require ironing when the laundering instructions are followed properly.
NOTE:Learn more about Milliken Table Linen fabrics like Wild Rice here.